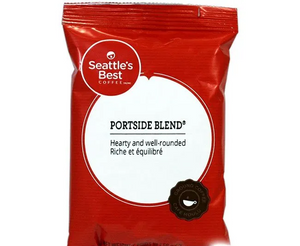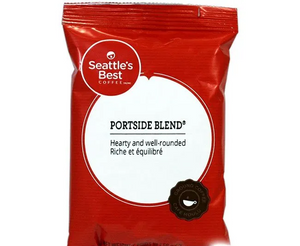 On Sale
Seattle's Best Portside Bold L3 (42x2.0 oz) Frak Pack
Portside Blend (Level 3) Seattle's Best Ground Coffee
Formerly called Seattle's Best Blend Coffee, now there's a new package and a new name. Portside Blend (Level 3) Seattle's Best Coffee has the same great bold flavor enjoyed from this medium roast coffee. Seattle's Best Coffee blends and grinds the finest Arabica coffee beans from Indonesia, South America and Central America, which discerning coffee house patrons crave.

 • Medium Roast
 • Nutty Sweetness
 • Bold Flavor - Smooth Taste
 • Social and Environmental Responsibility

Seattle's Best Portside Blend Coffee is the award-winning signature blend from this handcrafted specialty coffee maker. Seattle's Best Coffee also works hard to protect the environment and promotes sustainable farming methods which helps the coffee farmer and their family.

Each bag of Seattle's Best Portside Blend (Level 3) Coffee is nitrogen flushed for optimum freshness and should be used immediately after opening. This Portside Blend Gourmet Coffee is portioned packed and roasted to give you a perfectly smooth cup of coffee every time! Every box of Seattle's Best Portside Blend Coffee brews 18 perfect pots of coffee.

What is Seattle's Best Level System?

Ever noticed how many different names there are for coffee? Well, Seattle's Best has been roasting coffee for a long time, and one day they realized they should talk to loyal Seattle's Best coffee drinkers using the same lingo that coffee roasters have always used - by describing the coffee in levels. Level 1 being the lightest and mildest and Level 5 being the boldest and darkest, with unique blends at every level in between.

So, while Seattle's Best continues to work hard to find, roast and blend quality coffee beans from around the world to create delicious, premium coffees, they also want to make it easy for you to pick your favourites. So whichever level you choose from DiscountCoffee.com, Enjoy!
Proportion: Each 2 oz. packet brews a perfect 10 - 12 cup pot of Seattle's Best Level Three Coffee. To adjust strength, add hot water after brewing.

Water: Coffee is 98% water. Use fresh, filtered water for best flavour.

Freshness: Once it's brewed, enjoy coffee within an hour or transfer it to a thermal carafe. For best flavour, never leave it on a heat source.