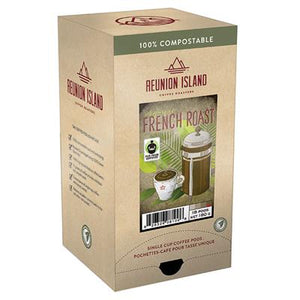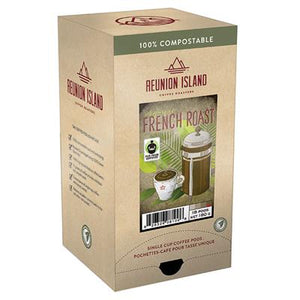 On Sale
Reunion Island French Roast FTO Pods
Fair Trade Organic (FTO) French Roast coffee is dark, and experts describe the taste as dark chocolate, smoky, caramel and heavy.
Reunion Island is committed to promoting sustainable coffee farming. Our Fair Trade Organic French Roast is harvested from small family farms in Central and South America. This coffee is certified under both the Fair Trade USA and USDA Organic programs. This double certified coffee meets growing consumer demand for agricultural products that are produced in an environmentally and socially responsible manner. Best of all, this bold French Roast features the bold character that coffee lovers crave.
Fair Trade explains their philosophy: Fair Trade goods are just that. Fair. From far-away farms to your shopping cart, products that bear our logo come from farmers and workers who are justly compensated. We help farmers in developing countries build sustainable businesses that positively influence their communities.