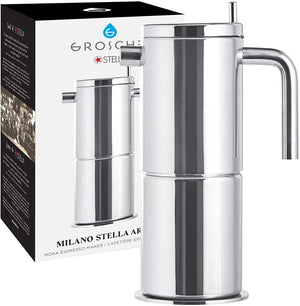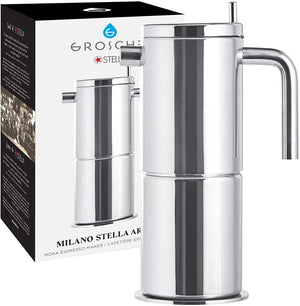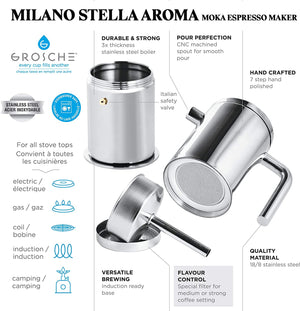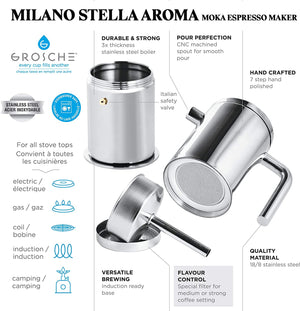 On Sale
Grosche - Milano Stella Aroma Stovetop Espresso Maker 4 cup & 8 cup
[ The absolute top of the line hand made Stove Top Espresso maker ] The GROSCHE Milano Stella Aroma is the result of 2 generations of fine craftsmanship and authentic design by Stella. Stella was an Italian brand making premium home kitchen wares since 1924 in Ferrara, Italy. The family recently retired from the businesss and GROSCHE has obtained exclusive rights to bring back the Stella Aroma back to premium coffee lovers as part of the GROSCHE Milano family.

[ For the luxury espresso customer looking for a cut above the ordinary ] The Milano Stella Aroma is a work of art in every way. It is hand crafted from heavy stainless steel using over 80 different production steps. It is made traditionally with the attention and care by expert craftsmen. The materials are carefully selected, and each production step is controlled by craftsmen to ensure that the Milano Stella Aroma is upto the standards set by the Stella family.

[ With original flavor control adjustable funnel to control your flavor the way you like it ] The funnel coffee filter in this moka pot has an insert that can be flipped allowing you to control how much coffee goes into your moka pot. That gives you control over the strength of the coffee. Unlike modern push botton electric espresso machines that brew a cookie cutter espresso, the authentic moka pot requires the user to use their expereince and skill to brew the moka just the way they like it.

[ Hand polished and hand machined all Stainless Steel moka espresso maker ] Each Milano Stella Aroma is made from Stainless Steel that is hand polished for its unique lister and finish. It is made for discerning customers who are looking for the best of the best in craftsmanship and will take the time to brew their espresso the way they like it.

[ You give back with every purchase when you choose GROSCHE ] GROSCHE is a social enterprise that is working to help those without access to safe drinking water, and funds its efforts with the sales of its coffee, tea and hydration products. Every time you buy a GROSCHE product you are giving 50+ days of safe drinking water to someone in need via the GROSCHE Safe Water project.