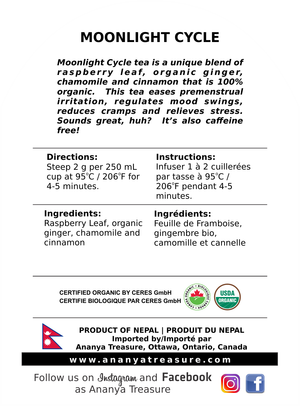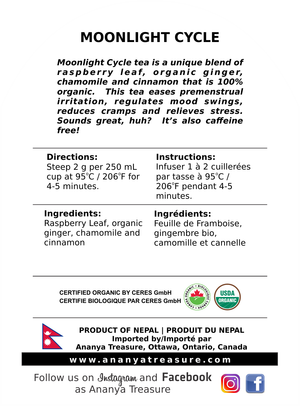 On Sale
Ananya Tea - Moonlight Cycle Herbal Blended Tea - 50 g
Moonlight Cycle tea is a unique blend of raspberry leaf, organic ginger, chamomile and cinnamon that
is 100% organic.  This tea eases premenstrual irritation, regulates mood swings, reduces cramps and
relieves stress. 
Sounds great, huh?  It's also caffeine free!

4 BENEFITS:

EASE PREMENSTRUAL IRRITATION, MOOD SWINGS AND CRAMPS
There are anti-inflammatory and sedative properties of these leaves that help to decrease
menstrual discomfort, as well as symptoms like mood swings and cramping.
REDUCE INDIGESTION
Unique naturally sourced ingredients help you to reduce digestive discomfort along with
indigestion. This makes it perfect before bed time or after a heavy meal!
RELIEVES STRESS
A perfect combination of leaves help to soothe and relax the muscles in the body, reducing the
manifestations of stress.
IMPROVES SLEEP
Helps promote a restful sleep, leaving you feeling more rested in the morning, giving you more
energy for the day.
Note: These statements have not been evaluated by the CFIA; this product is not intended to diagnose,
treat, cure or prevent any disease
Currently available in a quantity of 25 tea bags

CERES Certified 100% Organic, USDA Certified (NOP)
BREWING INSTRUCTIONS / INSTRUCTIONS D'INFUSION
To brew the finest cup of Moonlight Cycle, use a single tea bag per 8.5 fl. oz. (a standard US cup) of
water of temperature 95℃ (206℉). In general, use not quite boiling water or let the water cool down
for about 30 seconds after boiling. Steep for about 4 to 5 minutes to enjoy your fresh cup of
Moonlight Cycle.