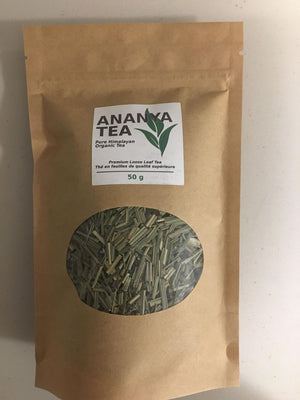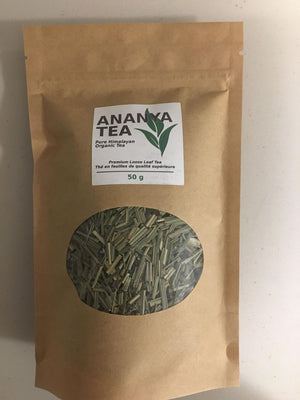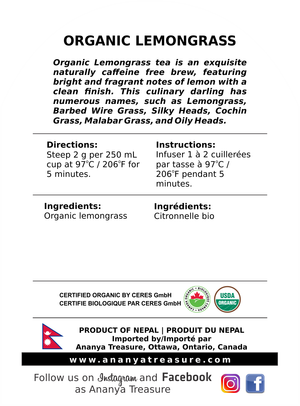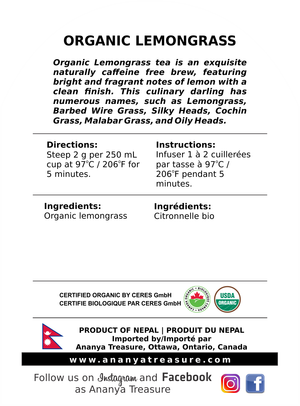 On Sale
Ananya Tea - Organic Lemongrass Herbal Tea - 50 g
Organic Lemongrass tea is an exquisite naturally caffeine free brew, featuring bright and fragrant
notes of lemon with a clean finish.  This culinary darling has numerous names, such as Lemongrass,
Barbed Wire Grass, Silky Heads, Cochin Grass, Malabar Grass, and Oily Heads.
BENEFITS:
It has a fresh, lemony aroma and a citrus flavour;
Its essential oil is used in aromatherapy to freshen the air, reduce stress, and uplift the mood;
Used as a folk remedy to promote sleep, relieve pain, and boost immunity;
Used as a detox tea to kick-start your metabolism and help you lose weight;
A cup of lemongrass tea is a go-to alternative remedy for upset stomach, stomach cramping,
and other digestive problems;
May also help protect your stomach lining and improve your lipid profile;
Note: These statements have not been evaluated by the CFIA; this product is not intended to diagnose,
treat, cure or prevent any disease
BREWING INSTRUCTIONS
To brew the finest cup of Lemongrass, use a single tea bag per 8.5 fl. oz. (a standard US cup) of water
of temperature 95℃ (206℉). In general, use not quite boiling water or let the water cool down for
about 30 seconds after boiling. Steep for about 4 to 5 minutes to enjoy your fresh cup of Lemongrass.