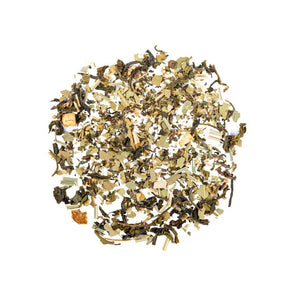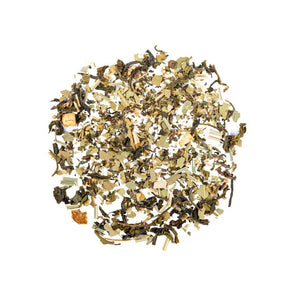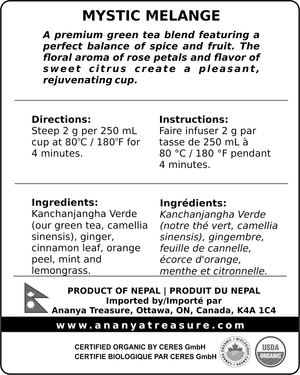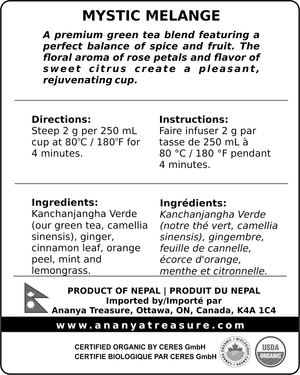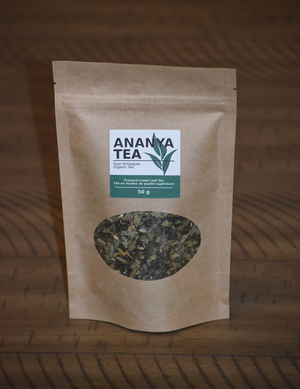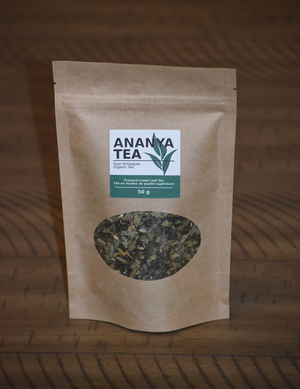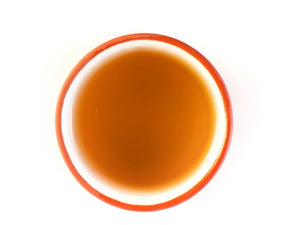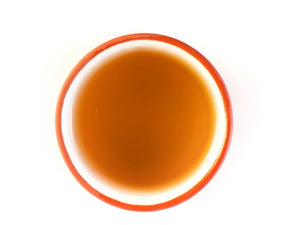 On Sale
Ananya Treasure - Mystic Melange Green Blended Herbal Tea - 50 g
A premium green tea blend featuring a perfect balance of spice and fruit. The floral aroma of rose
petals and flavor of sweet citrus create a pleasant, rejuvenating cup.
BENEFITS:
BOOST YOUR IMMUNITY
 A unique blend of spices helps to boost your immunity, helping to fight off colds and flu. Acts
as an antioxidant helping to prevent inflammation and infections.

6

REDUCE BLOATING & INDIGESTION
Unique naturally sourced ingredients help you to reduce stomach bloating, indigestion and
improve Irritable Bowel Syndrome (IBS). This makes it perfect before bed time or after a heavy
meal!
BOOST YOUR METABOLISM
Helps you to reduce the feeling of hunger and thus supports maintaining proper body weight.
DETOXIFY MIND & BODY
The aromatic properties of the lemongrass is perfect for aromatherapy, helping reduce stress
and clear the mind. It will also naturally cleanse your body out of toxins, along with other
undesirable substances, helping to promote a healthier and stronger body.
Note: These statements have not been evaluated by the CFIA; this product is not intended to diagnose,
treat, cure or prevent any disease.
Currently available in 50g stand-up pouches.
CERES Certified 100% Organic, USDA Certified (NOP)

BREWING INSTRUCTIONS / INSTRUCTIONS D'INFUSION
Dip a single tea bag per 8.5 fl. oz. (a standard US cup) of water of temperature 79 to 82° (175 to 180°).
In general, use not quite boiling water or let the water cool down for about 1 to 1.5 minutes after
boiling. Steep for about 3 minutes to enjoy the mild flavors of green tea with the refreshing citrus
aroma.